China Topscom & Control Cabinet System Manufacturing Build And Panel PLC Wiring Fabrications & Professional Supplier
Topscom offers extensive experience in the provision and integration of wiring looms, 19" rack systems and control cabinets. From single or multiple panel rack systems, through to full custom control cabinet suites, we can deliver to precise customer specifications, in low to medium volumes.
Our team uses customers' technical drawings and specifications to develop fully integrated rackmount solutions. A high level of accuracy means we capture every detail of your control cabinet configuration and hardware, so our service is ideal for multiple identical cabinet installations.
We can also customise control cabinet enclosures with safety glass, mesh and steel ventilated doors. Customers can also select customised cable access and power management.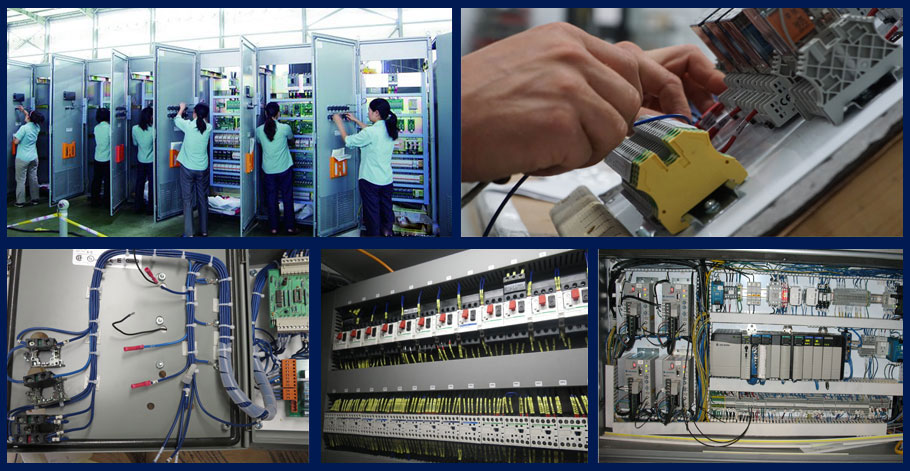 Rack system development
Topscom delivers a broad range of options for customers requiring rack system development, from single front panel assembly, through to a full custom control cabinet. Renowned as a quality, "right-first-time" service, our rack systems expertise means we can procure all necessary components.
Whether you need controllers, switches, timers, encoders, machined and fabricated metalwork or even plastic products, we will co-ordinate your supply chain and deliver guaranteed traceability. From transportation through to industrial, telecoms, railways and renewable energy, we support diverse manufacturers with a range of integration capabilities including:
• Custom cabling
• Panel wiring
• Modular sub-rack manufacture
• Sub-rack installation (backplanes, daughter cards)
• Power installation
• Power configuration
• Heat management
• Systems integration
• Telecommunications cabinets
• Process control and automation
• Software loading
• Software testing
Skilled, time-served wiremen use a vast array of cable preparation and crimp tools on both sub-rack and large cabinet projects. They work to customer drawings or build instructions produced in Solidworks mechanical and electrical CAD software by the experienced electrical engineering team.
Metalwork modification is carried out in our machine workshop, and our testing comprises continuity, high voltage flash and PAT testing.
We have proven track record in serving the following industries: transportation, industrial, telecoms, railways and renewable energy.